Following are the stages of Our Recruitment Process -
Stage 1 : Receipt of Demand  Once we receive a demand / requisition a competent staff member is assigned  to look after the same. This stage envisages the precise understanding of the Client's Requirement and further if required drafting of the Job Description. This ensures better quality of candidates. Necessary documents such as Power of Attorney (POA), Sample Employment Offer (SEO) and Demand Letter (DL) will be requested at this stage. We will then present a project plan to the client to ensure timely recruitment.
Stage 2 : Screening & Short-listing Screening takes place from our database, associate network and advertising, we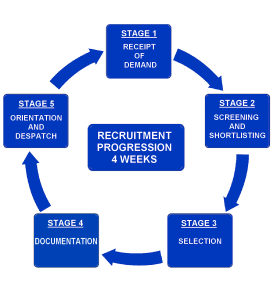 acquire relevant candidates for our clients. Depending on the requirement of the Client to be of Blue Collared Personnel or White Collared Personnel we conduct a trade test for the Blue Collared Personnel while for the White Collared Personnel like. Engineers and other Professionals are shortlisted after an extensive interview. Only the candidates who pass our test procedures are invited for client interviews. Our aim is to only present candidates who match the client's job requirements.
Stage 3: Selection Once the shortlisting is complete the client is invited to either conduct Table Interviews, Telephonic Interviews or select the candidates based on our recommendation.
Stage 4 : Documentation Once the Selections are complete,, the documentation process starts. We do all Documentation works in house. S'NP maintains excellent relationships with all high commissions and embassies and hence are able to get documents attested / stamped in a timely manner.
Stage 5 : Orientation & Dispatch Candidates are given orientation about the country where they are being mobilized. They are familiarized with local labour laws, camp rules and guidelines as well as work culture. Thereafter we dispatch candidates to the respective project site.